Back to Top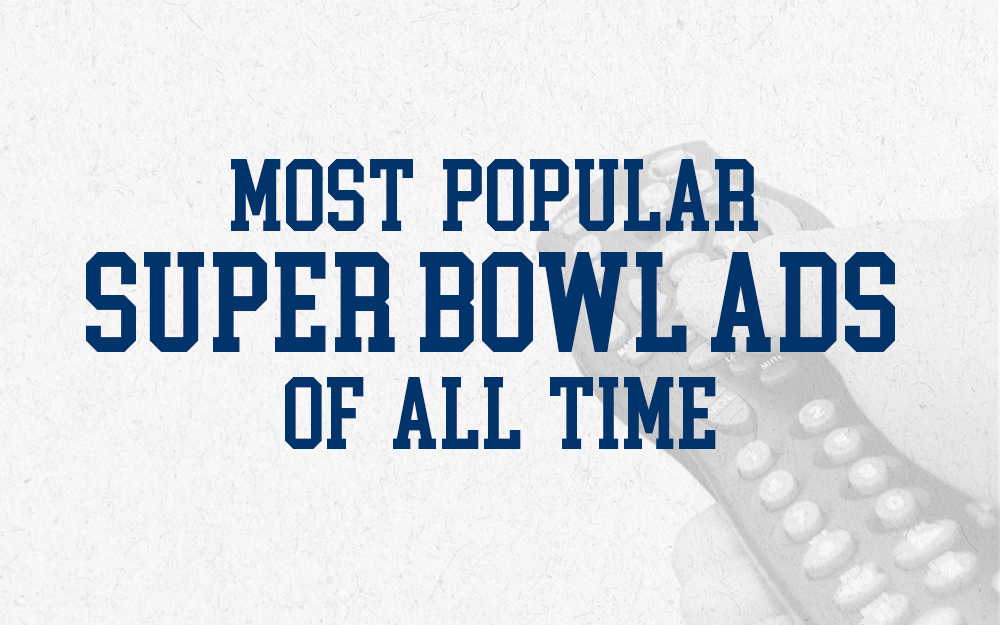 The Average Cost Of A Super Bowl Commercial
In 2018, a 30-second Super Bowl ad cost $5.5 million. Find out how the average cost of a Super Bowl ad has changed since 1967.
by PromoCodesForYou, on January 31st, 2019
The Real Cost of a Super Bowl Ad
The Super Bowl is the event of the year for sports fans and non-sports fans alike. It's an excuse to host friends, eat delicious food, and drink, which is always a bonus. And even if sports aren't your thing, the halftime show is always full of newsworthy entertainment, and then there are, of course, the ads.
The Super Bowl is famous for the ads that run alongside the game because they are designed to be a form of entertainment within the big game. Companies pay an exorbitant amount of money for a 30-second spot during the event, so naturally, they bring their A-game when it comes to putting those slots to good use. In fact, some of these commercials could be classified as classics.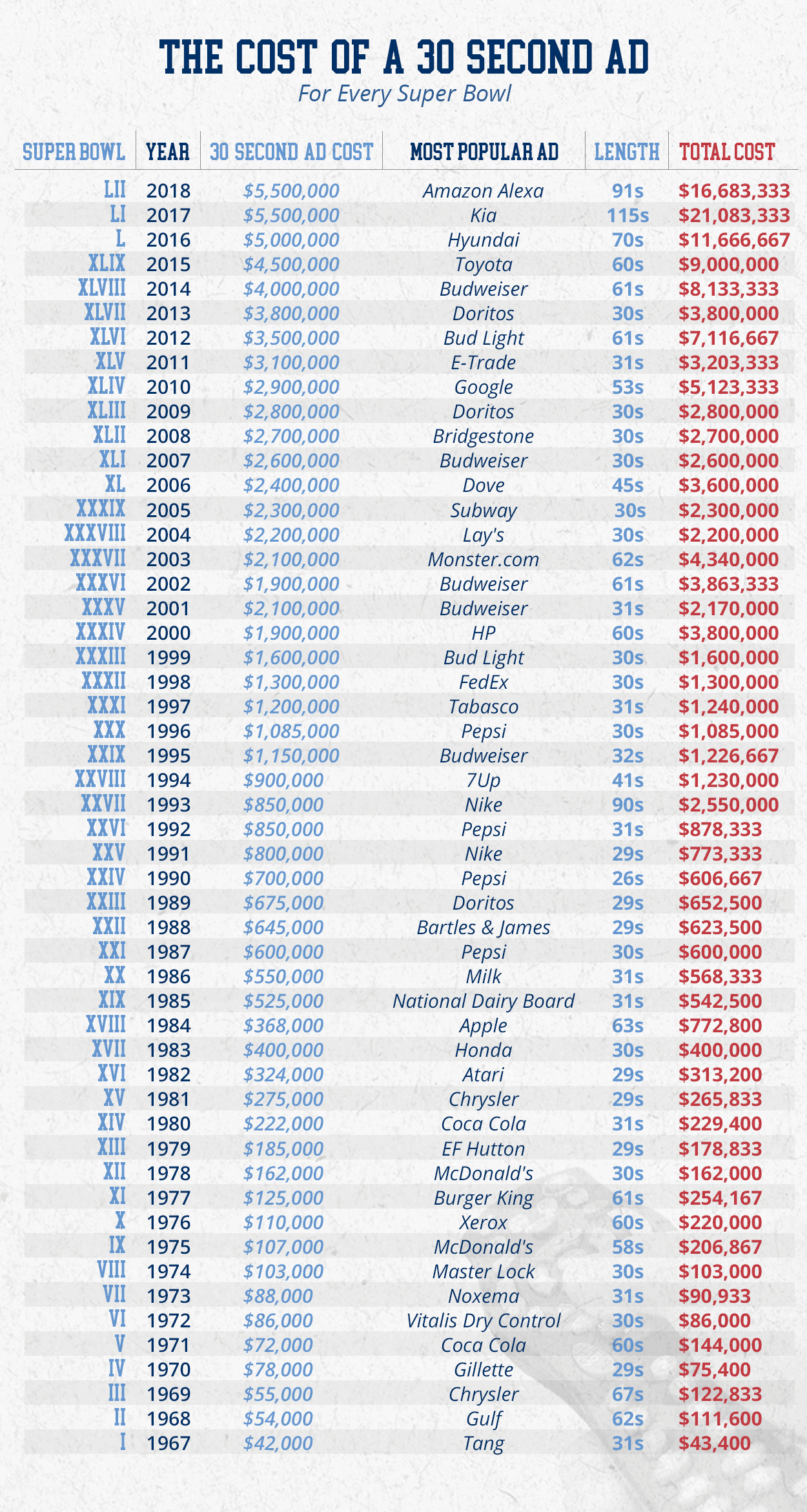 For the 2018 Super Bowl, a 30-second ad cost a whopping $5.5 million, averaging $183,333 per second. That's an astounding amount of money, so we wanted to turn back the clock to see what the average cost of an ad was during the first-ever Super Bowl.
Way back in 1967, Tang had one of the most popular commercials and the cost of a 30-second segment was a steal in today's terms. The company only had to pay $42,000 for their 30-second ad, a mere $1,400 per second. When compared to the price of last year's game, there's been a price increase of about 1,310% over the 51 years that the Super Bowl has existed.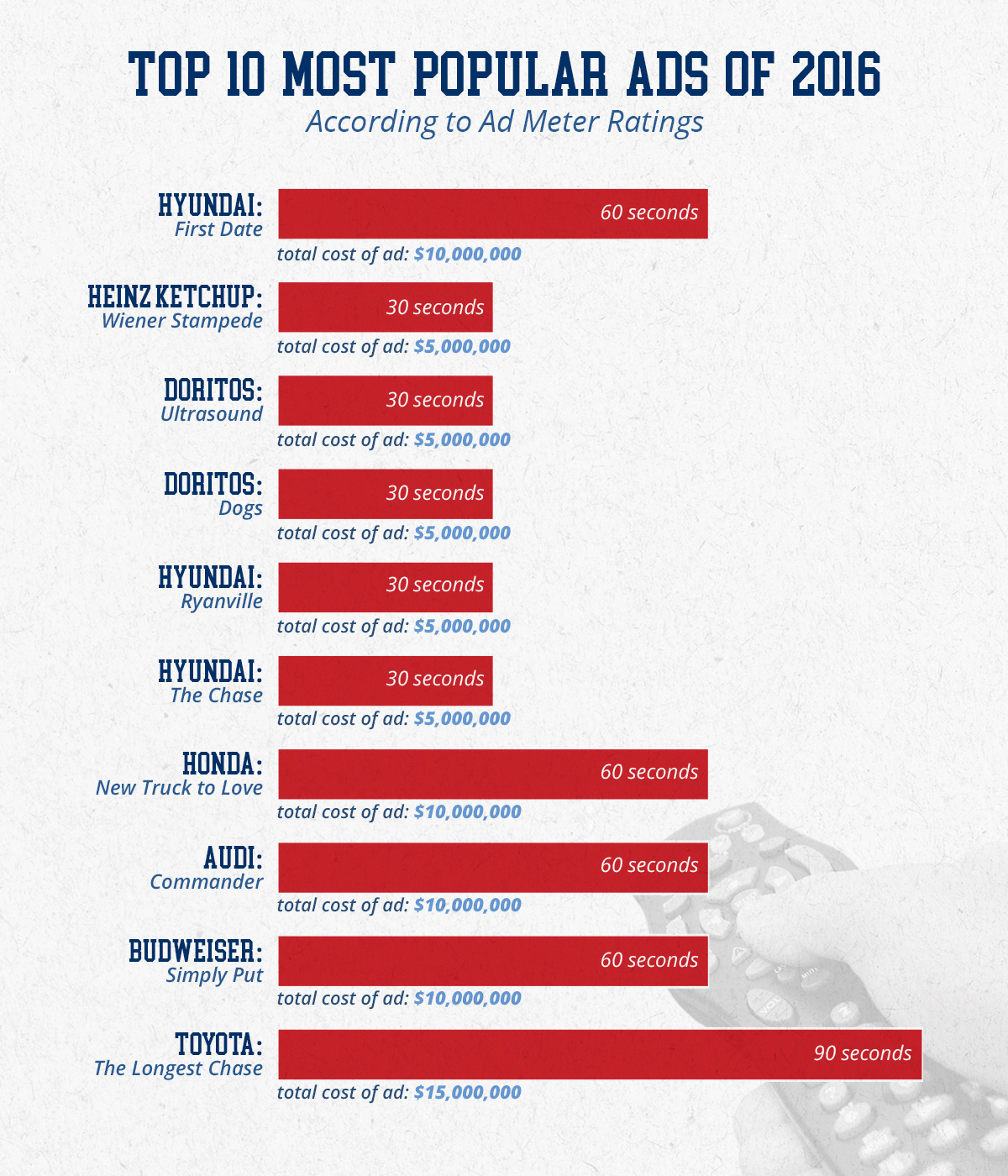 Every year during the Super Bowl, USA Today runs a study to gauge reactions to the ads in real time. According to these results, the most popular ad during the 2016 Super Bowl was Hyundai's "First Date" commercial. This ad features Kevin Hart insisting that his daughter take his Hyundai on her first date and follows him as he tails the two youngsters using the car finder feature of the car. In second and third place were Heinz and Doritos, which are two brands that historically have very popular commercials during the Super Bowl.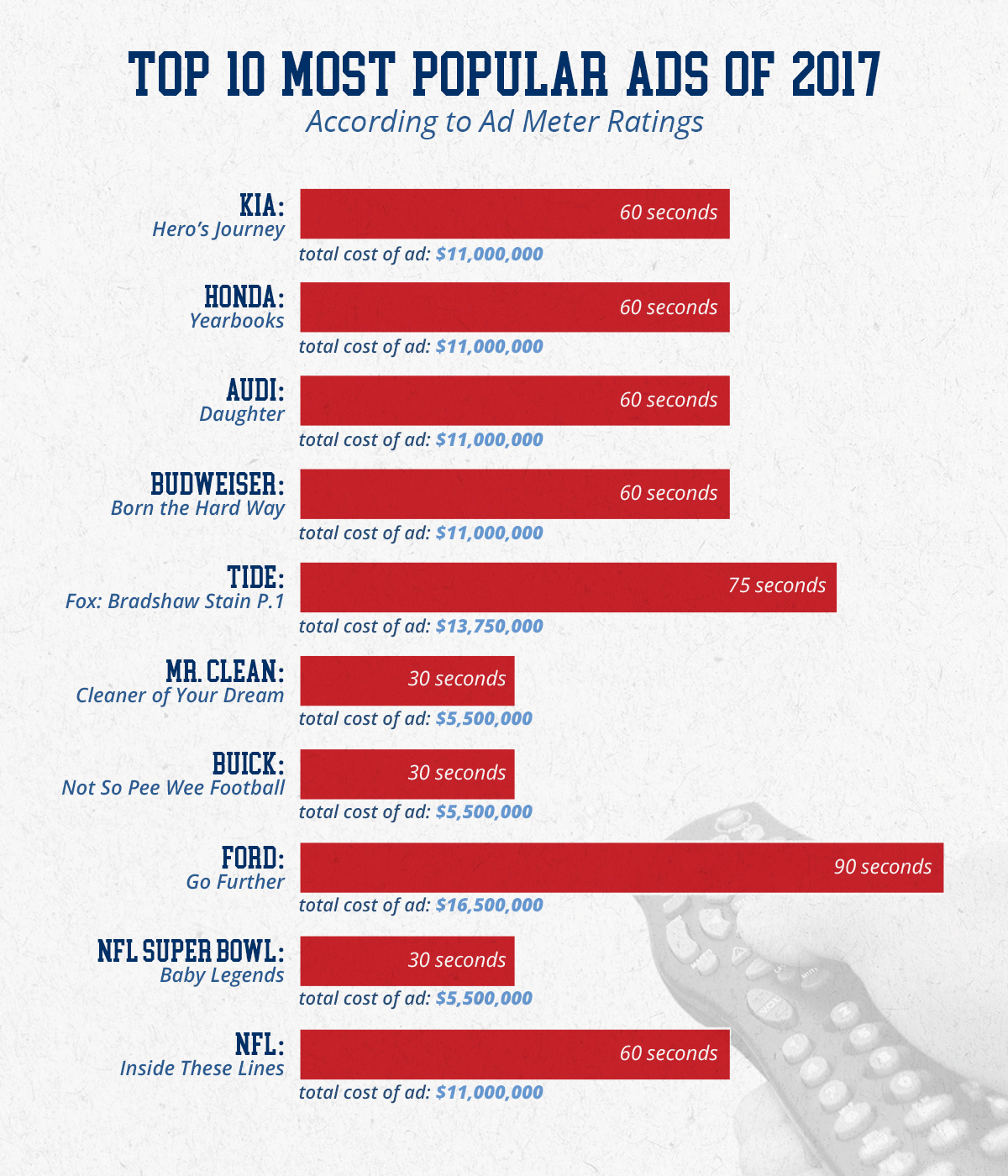 Kia took first place in USA Today's ranking in 2017. Their "Hero's Journey" commercial earned a 7.47 score out of 10 from the focus groups. The ad features Melissa McCarthy trying (and failing) to fight for different environmental causes, finishing up with a mention that the Kia Nero is the most fuel-efficient crossover available from Kia. Honda and Audi took the silver and bronze in 2017.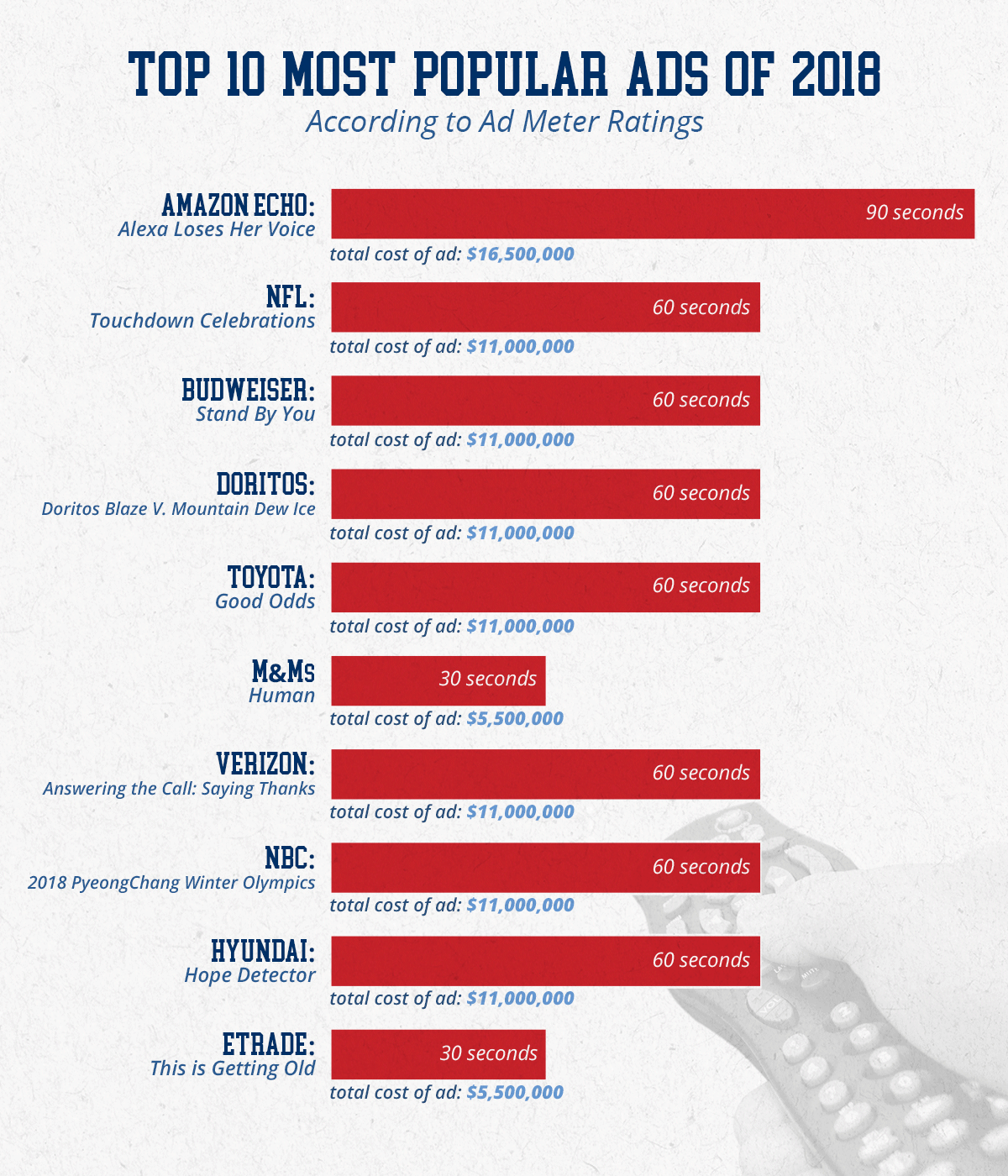 Amazon was the big winner in 2018 with their "Alexa Loses Her Voice" ad. It earned an overall score of 7.18 out of 10 and featured a star-studded cast replacing Alexa as Amazon Echoes everywhere lost their voices. The NFL itself and Budweiser came in second and third last year, completely jumping over last year's trend of car commercials being the most popular.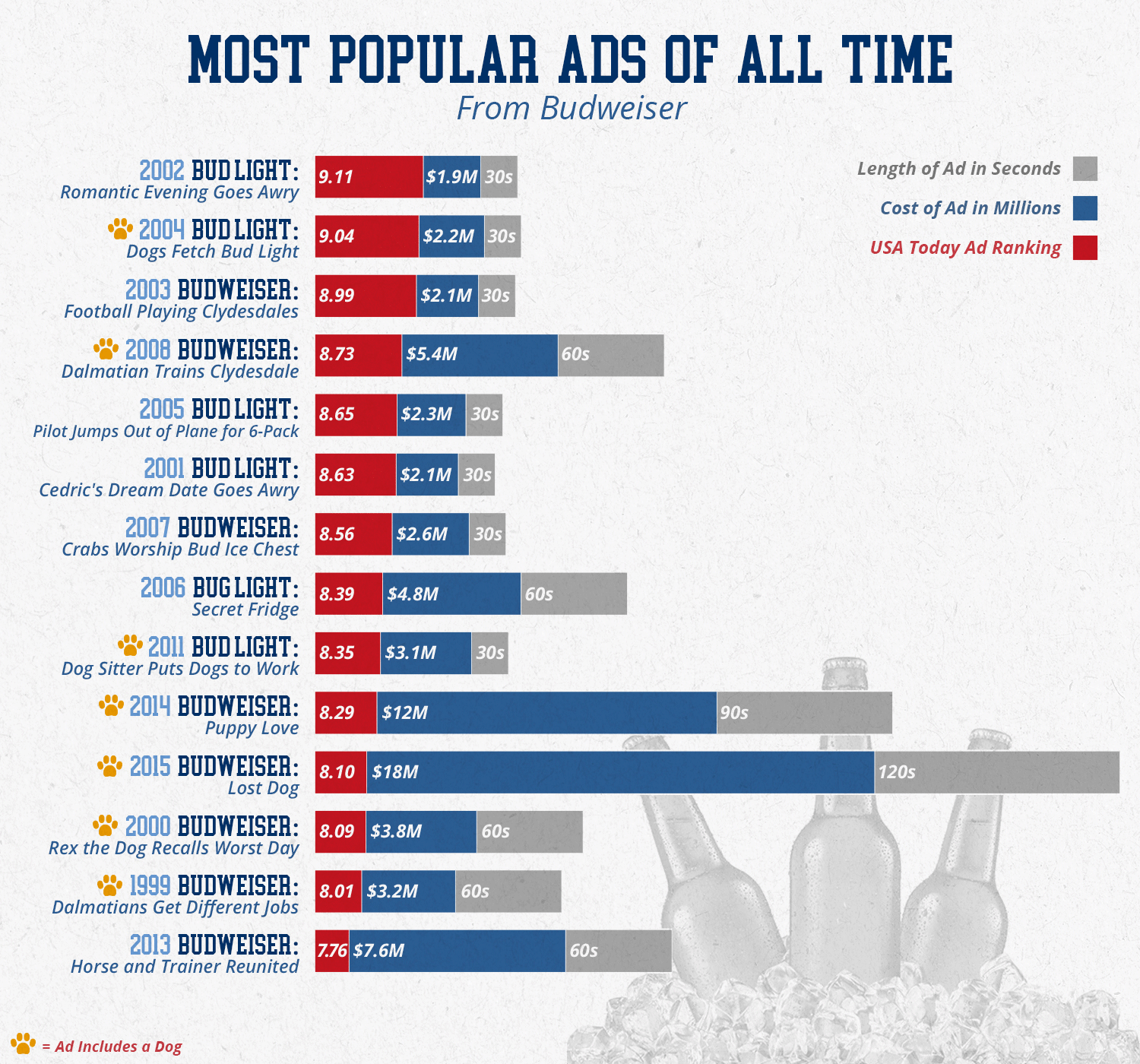 Budweiser has had some smash hits in the ad department during the Super Bowl over the years. Their most popular commercial was "A Romantic Evening," which was rated at 9.11 out of 10 by focus groups in 2002. It features a woman trying to coax her husband upstairs, but he is ignoring her until she says she has Bud Light.
Some of their more recent commercials follow a similar theme, featuring adorable puppies and horses with storylines designed to tug at the audience's heartstrings. Their overall performance is incredibly high. The Budweiser brand has 13 commercials with USA Today rankings of over 8 of 10.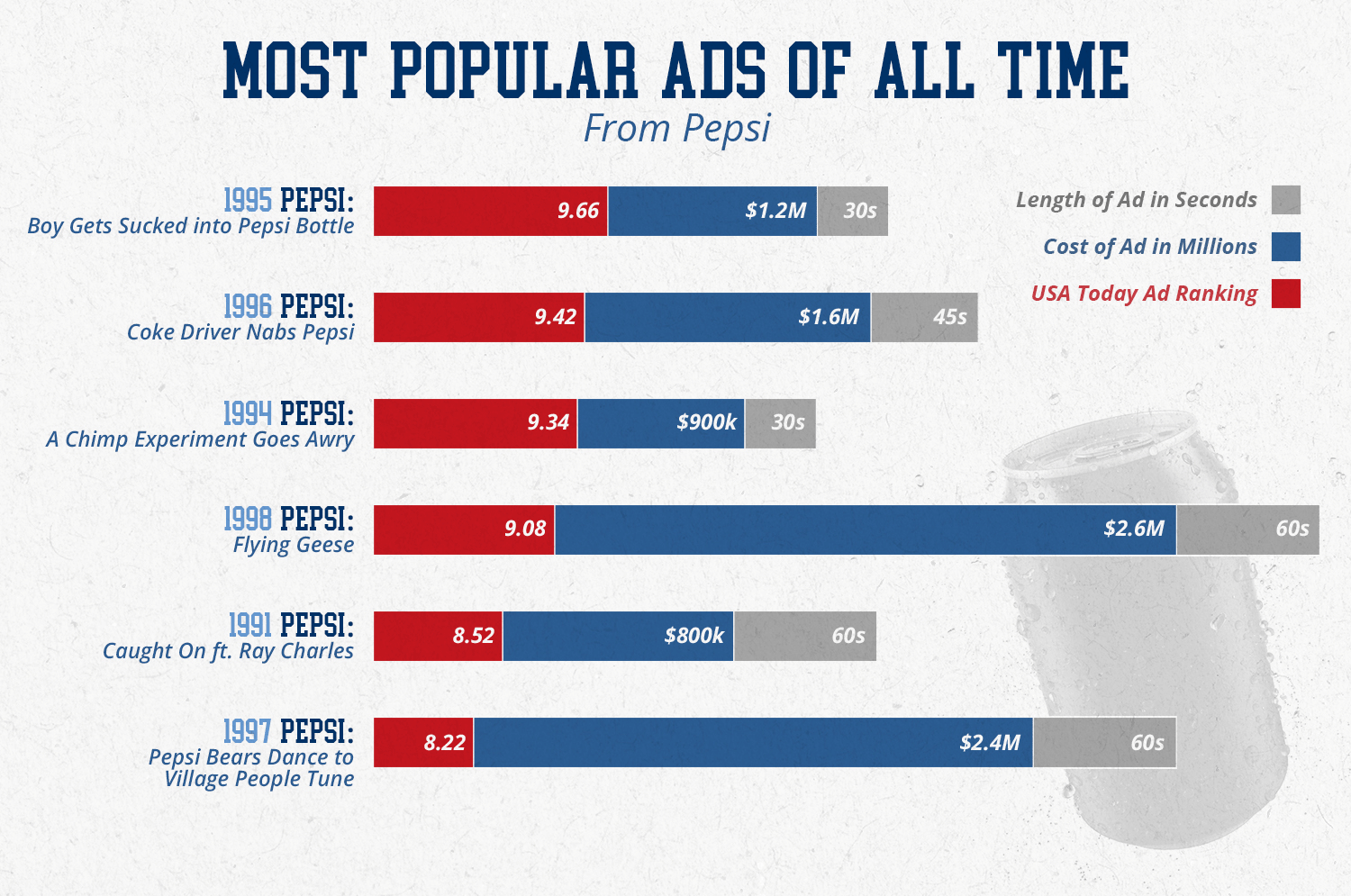 Pepsi had most of their Super Bowl commercial success in the '90s. Historically, their highest ranked Super Bowl ad was their "Boy Gets Sucked Into a Pepsi Bottle" ad that aired in 1995. With a ranking of 9.66 from USA Today, this commercial features a young boy trying to sip the last drops out of a Pepsi bottle and as a result, gets sucked into a bottle. Some of their other popular commercials feature animals like bears, chimps, and geese, which proved to be very popular in the '90s.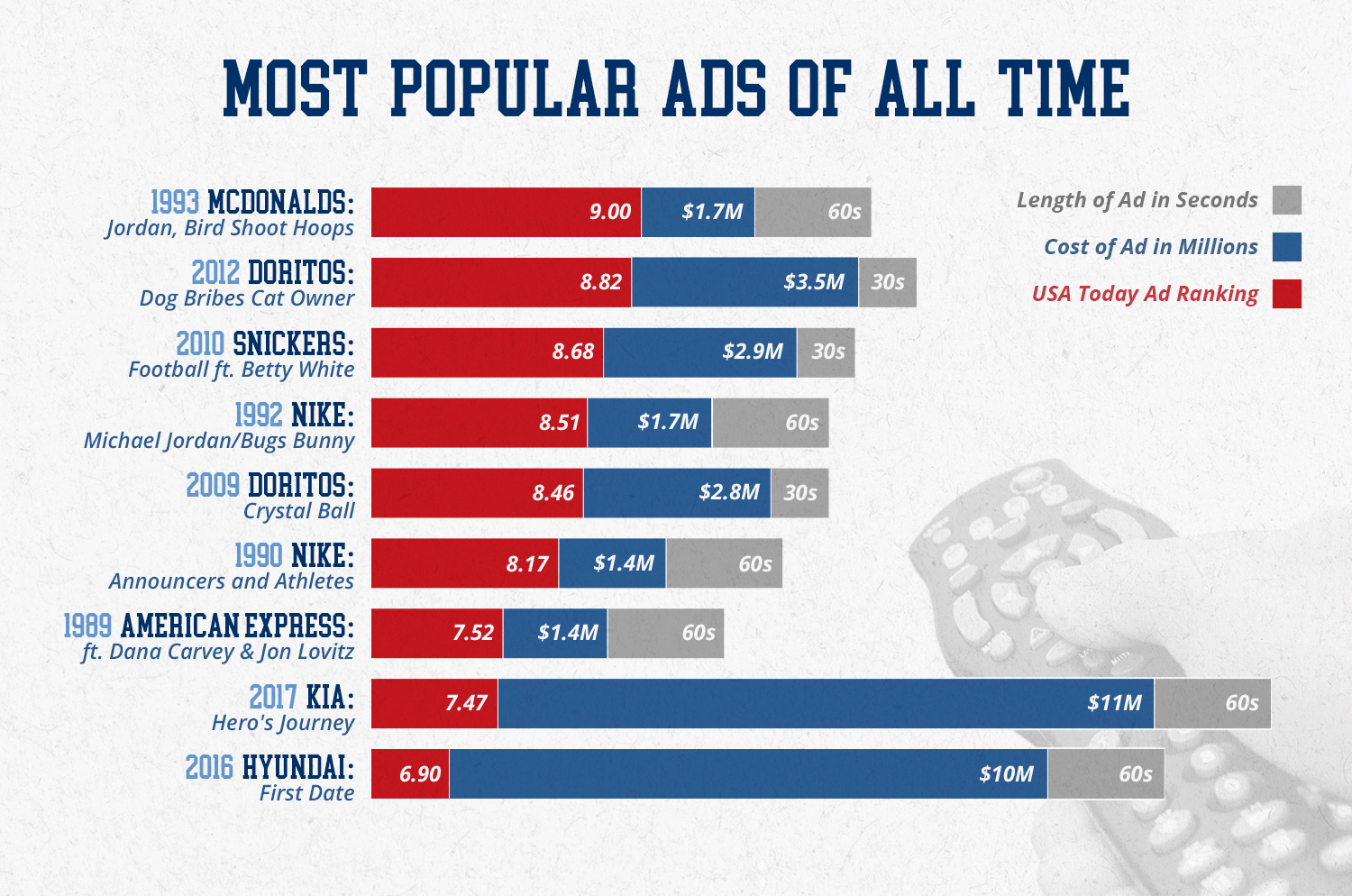 There have been several very popular Super Bowl ads over the years. Of the top commercials according to USA Today, these are some of the most popular ads of all time. Larry Bird and Michael Jordan try to outshoot each other for a Big Mac and Fries in a 1993 commercial for McDonald's. Nike's "Bugs Bunny and Michael Jordan" ad for Air Jordans also performed extremely well in 1992. Kia and Hyundai both made the list of top ads of all time as well. Overall, these popular ads tend to include iconic celebrities, products, and brand names, as well as a splash of humor, making them memorable.
Super Bowl ads are the marketing industry's biggest annual showing, and in many cases, people are just as invested in the ads as they are the actual game. The high prices are an incentive for companies to create extremely high-quality commercials to air in those 30-second spots. 2018 was the first year where the audience viewing the Super Bowl actually dropped, so it will be interesting to see how that affects sales for ad spots. Time will tell if the lower viewership acts as a money-saver for major brand names. Looking to purchase your favorite brands after the success of their Super Bowl Ads? Be sure to check for a promo code to save a few bucks here first!