Back to Top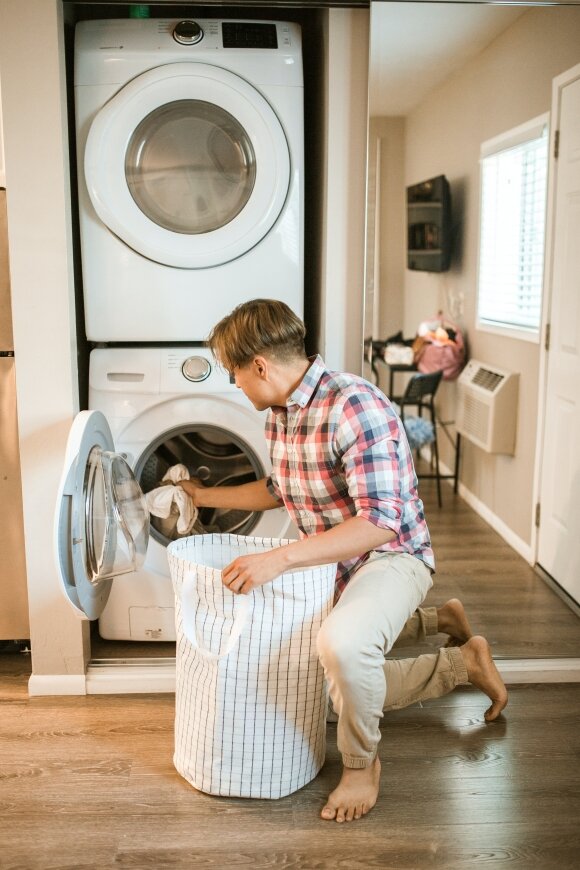 The Best Time to Buy A New Washer & Dryer
by PromoCodesForYou, on August 30th, 2021
One of the most treasured and desirable appliances is the beloved washer and dryer. Americans value the convenience of doing laundry without having to leave the house. That's why over 80 percent of households in the United States own a washing machine.
But when this household helper breaks down, all chaos can ensue.
For just about all of us, buying any new appliance is a major purchase. Before you plop down your hard-earned money on new equipment, it's worth it to do some research and planning in advance to make sure you get the very best possible price.
What is the Best Time of the Year to Buy A New Washer & Dryer?

Experts say that the ideal timeframe to buy any major appliance is when manufacturers announce their new models and begin to roll out all the fresh styles. This is the reason that the best months to buy a washer and dryer comes in early Fall.
You will want to target the months of September and October to be sure you receive the maximum savings on washers and dryers. This is when these modern-day appliances offer the best deals. You'll find discounts starting around Labor Day when stores are focused on getting older models off their showroom floors to make room for products with the latest bells and whistles.
If you're not too picky and willing to accept older or floor models, September and October are the best time to buy a washer and dryer on sale. Expect to be tempted with heavy discounts and spectacular clearance deals as retailers do whatever they can to move the previous years' inventory.
Where You Buy Matters

Big box stores like Lowes, Home Depot, Best Buy, Costco, and others allow you to select from a wide range of brands and models.
If you've been shopping for a new washer and dryer, you've probably noticed that product selection, delivery costs, and warranty coverage can vary widely among retailers. Before you finalize this big expense, check out these top three things for what to look for when buying washer and dryer:
Delivery and installation services. Most stores will bring and connect your appliances, but not all will take away your old units without an extra charge. Ask before you buy so you don't incur the additional cost of hauling away your old items.
Cancelation and return policy. In case you have a change of heart, be sure to understand the cancellation and return requirements to avoid getting stuck with extra fees. Some retailers have a generous 90-day return policy while others offer only 30 days.
Free shipping. If you are buying these large appliances online, the shipping costs can be huge. Double (and triple) check any add-on charges for receiving your new washer and dryer, even if you are having it delivered to the store itself. No one likes to be surprised by extra costs.
But Wait, There's More!
Although some big box stores like Costco. Best Buy, and Home Depot offer good deals on household machines year round, there are other times you can find even better savings. In addition to discounts that begin in September, most major appliances also go on sale during major holidays.
When you need to replace your washer and dryer, don't overlook the extreme discounts that come every year with Black Friday or even Cyber Monday. Last year, the data showed that on these two mega shopping days, the discounts for washers and dryers averaged 20 percent. Saving this amount on these big ticket items can really keep a lot of your hard-earned money in your pocket.
Save a Bundle by Bundling

Even if you only need either a washer or a dryer, buying both in the same transaction could save you money in the long run. That's because most retailers offer combination discounts. Besides, if your old washer or dryer has recently broken down, the matching machine probably isn't too far behind.
So, bundle your laundry machines for the deepest discounts.
Additional Money-Saving Tips

There are even more ways to save on your washer and dryer purchase. Here's what to know:

Warranty Avoid the warranty. Most salespeople will tell you that an extended warranty is a feature you can't live without. But yes, you can. Even Consumer Reports says it's "money down the drain."
Extra protection Check to see if buying with your credit card gets you any additional benefits. For example, some credit cards will automatically double the manufacturers' own warranty. That will give you additional peace of mind without having to spend additional dollars.
Price-match guarantee Before you decide on the best place to buy a washer and dryer set, check to see if there is a price-match feature. This will ensure you get the best deal possible. It means a store promises to match (or beat) competitors' prices if you find it at a lower cost within a specific time frame.
Long-term savings Find Energy Star labeled appliances to keep utility costs down throughout the life of your new washer and dryer.
Rebates Manufacturers and retailers often provide the opportunity for a mail-in or instant rebate. Rebates on washers and dryers can be significant, often hundreds of dollars on a washer and dryer set.
Promotional and Coupon Codes You never (ever) want to complete your purchase without finding a promotional code for additional savings. Whether you shop at Home Depot or Sears, some of the best coupon codes can be found at PromoCodesForYou.com. You can also find the latest offers and deals from Costco on the People Coupons website to save even more.
The Bottom Line

If you're shopping for a washing machine or dryer it pays to investigate all of your buying options to find the retailer with the best deal on your major appliance purchase.
Timing is everything when it comes to the best bargains on major household equipment. Whether you're looking to shop exclusively online or you prefer an in-store experience, the best time to buy a washer and dryer is when stores need you more than you need a new home appliance.
So, if your washer and dryer are acting a bit odd, avoid paying full price. Use these tips to understand the best time to buy a washer and dryer and replace these appliances before they fail for maximum savings.