Back to Top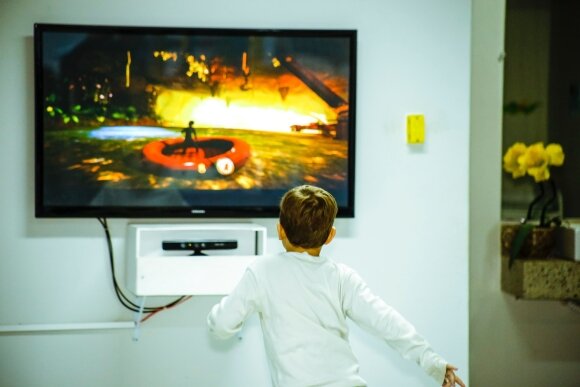 The Best Time to Buy a TV
Watching television is America's favorite pastime. There are now endless options to consider when purchasing a new TV from picture quality, voice commands, size, and clarity. Regardless of what you buy, you can get a great deal if you follow these tips fo
by PromoCodesForYou, on May 8th, 2020
Watching television is America's favorite pastime. There are over 119 million homes with television sets and over 250 billion hours of TV are viewed every year.
No wonder everyone wants to know "when is the best time to buy a new TV?"
The Best Time of Year to Buy a TV
Just like all technology and appliances, particular months that have better deals on television sets than other times of the year.
1. Super Deals for Super Bowl
The biggest football game of the year takes place in early February. And the first of the year brings big TV discounts. The Super Bowl is an ideal event for retailers to highlight TVs, especially those with larger screens. This means there are exceptional savings on 49-inch to 65-inch sets, or even larger models.
2. Holiday Discounts
It comes as no surprise that holidays offer some of the biggest deals of the year. In fact, there is no longer any need to ask if Black Friday is the best time to buy a TV. When Black Friday and Cyber Monday roll around in November, prices typically hit bottom. These sales are best known for crazy, doorbuster pricing as just about every brand gets a Black Friday price cut. TVs are usually hundreds of dollars off during Black Friday promotions, but shop early. Many merchants have limited supply and they go out the door quickly.
Saving on High-Resolution TVs
It used to be tricky to get a good deal on televisions that had 4K resolution. The term 4k is associated with ultra high-definition. The technology was used to develop a picture that has four times as many pixels as old-fashioned standard TVs. So, 4k versions deliver super sharp and clear images.
Today, 4K sets are basically standard and no longer rare and expensive. So, the best time to buy a 4K TV is pretty much the same as any other time there are deals.
The same goes for the best time to buy a flat-screen TV. Actually, when was the last time you saw a television set that wasn't a flat-screen? Those ancient models that sat on a table or hung from bulky brackets from the ceiling have become as rare as dinosaurs and (thankfully) almost impossible to find.
However, Smart TVs may be a different story.
The Best Time to Buy a Smart TV
The entry of Smart TVs has influenced and changed the way people purchase a new television. Brands like Samsung, Sony, TCL, and LG lead the Smart TV category, but more companies are entering this growing segment.
Smart TVs let you switch between cable TV and streaming services, while allowing for web browsing. Most also have built-in apps such as Netflix, Hulu, and Amazon Prime with the ability to subscribe to the newer offerings such as Disney Plus.
But the features don't stop there. For the best viewing experience, most smart television sets have built-in high-definition speakers and crystal-clear resolution.
With all these benefits, you may believe it is difficult to find a good deal on a Smart TV. It's true that when they were first introduced, Smart TVs were out of most people's price range. But today, significant savings can be found.
Deals and discounts pretty much follow the sales of standard televisions. However, usually in January, the latest technological models are introduced and upgrade Smart TVs start hitting store shelves in March and April.
The good news is that during the Spring months, you can find plenty of last year's Smart TVs on sale. Television sets from the previous season are great to consider for extra savings and deep discounts, while still getting the most important features that make for fantastic viewing and convenience.
What to Look for When Buying a TV
Regardless of when you buy, it is helpful to know what to consider when buying a TV. Use these savvy shopping strategies year-round:
1. Do your homework. Decide in advance what you want in your new television set. You'll certainly want better clarity when you watch your shows. But picture quality is more complex than just counting pixels or reading a spec sheet. Take time to read reviews from both consumers and electronic experts.
2. Bigger is Better. It's best to see the actual size and picture quality of the television in person. Most experts recommend a minimum of 43" screen for a bedroom and at least 55" for the family room. It true that more than any other feature, upgrading the size is the best use of your money. One of the most common post-TV-purchase complaints is that consumers regret not going big enough. But almost no one complains that their TV is too large.
3. Look for a price match guarantee. Whether you buy online or in-store, check a retailer's price matching policy. Some stores will refund you the difference if an item drops in price within a certain window after purchase. You never want to overpay.
4. Voice Command. One of the biggest advancements in television sets is the ability to control it with the sound of your voice. TV remotes with built-in microphones and "push to talk" functions are touted by the two major players in voice today, Google and Amazon. Many sets have Google Assistant built-in while other models incorporate Alexa. Decide how important extra options are before you make a purchase.
The Best Place to Buy a TV
Television sets are readily available from online retailers to big box stores. But how do you decide on the best place to buy a TV?
• Electronic Retailers. Stores like Best Buy are obvious choices and it's often hard to beat their pricing and special offers. They almost always have some kind of TV sale going on. Also, shipping is free on just about all their TVs, and they have store pick-up in most areas if you need it fast. Fry's is another place to browse TVs from major brands. Fry's frequently sends out emails with promo codes for sales and other special offers. Your purchase will come also with a 30-day satisfaction for peace of mind if you are ordering online and aren't able to physically view the product before purchasing
• Major National Retailers. You'll likely discover great prices on TVs at Walmart, Costco, and similar chains. But do some checking before your buy. Some brands at these mega merchants are third-tier and may not be as reliable in terms of quality.
• Online Giants. Shopping online has its advantages. It's an easy way to compare features and prices with a single click. But beware. Prices can change quickly on sites like Amazon and there can be strict return penalties. Know exactly what you want to purchase before buying online.
• Think Out of the Box. Did you know Dell has over two dozen choices for television and Smart TVs? While it might seem strange to suggest a PC company as a place to shop for televisions, it could be one of the best places to save. Although you may find limited brand names, Dell often adds on gift cards to TV purchases as an added incentive.
A Final Word
Television is a central part of our lives and in some form, it will likely be for years to come. Take a look at how you engage with television viewing and what type of TV set will best fit your lifestyle. Remember, there is a best place and best time to buy a TV so that you get the best bargains around.