Back to Top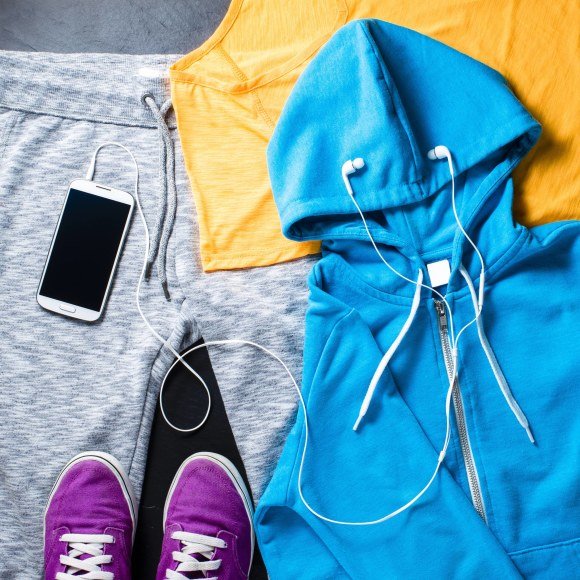 The Rise of the Athleisure Industry
by Joe Graceffa, on March 30th, 2017
Look around and you'll find that athleisure is now an acceptable, even popular, form of dressing for just about every occasion, except maybe for the red carpet. The impact of athleisure fashion is all the rage as women (and men!) flock to purchase athletic clothing that is acceptable in the workplace, for Sunday brunch, trolling around town doing errands, as well as a myriad of casual and social occasions.
Quite simply, athleisure is becoming bigger than just a trend as "gym clothes" make their way out of the fitness arena and become a large part of people's everyday wardrobes. Athleisure is comfortable and functional clothing. It is now a lifestyle, not just a fad.
On the Upswing
Athleisure refers to casual clothing including yoga pants, contemporary sweat pants, sweaters and hoodies that are designed to be worn both for exercising and for doing (almost) everything else.
More flexible dress codes and increased emphasis on staying in shape have contributed greatly to the wide adoption of athleisure. Not to be left behind, luxury versions of leisure clothes have grown to occupy a significant niche in the fashion world.
By the Numbers
U.S. consumers spent $323 billion on apparel, footwear, and accessories in 2014. The increase of $2 billion in sales over the previous year was driven primarily by growth in sales of activewear and athletic footwear.
Morgan Stanley predicts that, by 2020, active wear will represent $83 billion in sales. Celebrities and designers have collaborated with sportswear corporations resulting in athleisure designs from Kanye West and Stella McCartney to Beyoncé, enhancing the visibility and awareness of the athleisure category.
The Rules
Although widely accepted, there are still some rules that apply when dressing with athleisure pieces.

1. Double check the mirror
First and foremost, it's got to be clothing that is not see-through when you bend forward. The key is that the workout apparel be produced from performance fabrics, including quick-drying, odor resistant, and moisture wicking materials.
2. Color Appropriate
When in doubt, stick to neutrals. It's a bit of a risk to put yourself out there and wear something very vibrant or a bright print.
3. Tailor Made
While you'll feel relaxed in such pieces, you have to avoid looking sloppy at all costs. Most style experts emphasize to "cover your bottom," especially in a professional environment, no matter how casual the culture. Keep your athleisure pieces crisp and clean. Tears in the fabric, sweat stains and stains of any kind are never (ever) acceptable.
4. Accessorize Appropriately
Accessories can include sunglasses, a smartwatch or something like Fitbit. Backpacks instead of a purse help complete any outfit.
[Our EyeBuyDirect coupons will help you save on sunglasses with and without prescription lenses!]
The Players
Nike is one of the clear leaders in this relaxed fashion style. For over half a century Nike has been the supreme athletic gear retailer providing the fitness world with superior craftsmanship and originality, injected with an edgier, younger feel to their product line.
Their innovative designs and continuous ability to update their products from sneakers to tank tops have made it more acceptable than ever to wear high-end workout outfits all day long, even if you don't work out at all.
Gone are the velour tracksuits and baggy sweatpants. Everything has been reimagined, elevating fitness wear into the status of an extravagant item. The focus is fashion and whether it is sneakers, sports bras or sweaters, Nike leads the pack with over $30 billion in worldwide sales revenue making it the world's largest supplier and manufacturer of athletic shoes, apparel, and other sports equipment. Their constant updating of materials, styles, and designs has put them at the forefront and allowed them to maintain the position of the undisputed champion of this market.
But there is no need to spend your entire paycheck at the Nike register. Enjoy savings with Nike promo codes from PromoCodesforYou.com.
[Use one of our Nike coupons to save big on your athleisure purchanse!]
A New Day at New Balance
In 2015 New Balance launched a multi-million dollar campaign focusing on female customers for their athleisure line of items. In a joint venture with J. Crew, New Balance brought their athletic design expertise to the masses. They introduced athleisure items for both men and women that include shoes, pants, shorts, short and long-sleeved tops, jackets, and pullovers in high quality, technical fabrics and cool colors.
Adding to their popular footwear line, New Balance introduced high-end style "kicks" with perforated leather with suede "overlays, ideal for wearing to work or gatherings with friends.
You can get stellar savings from PromoCodesforYou with New Balance promo codes so you can buy that extra item you have your eyes on!
[Grab a New Balance promo code here!]
Embrace Comfort and Function
It's time to embrace the idea that athletic apparel is acceptable to be worn in non-athletic settings. CEOs wear sneakers to board meetings, the lines have blurred between the locker room and everyday wardrobes and athletic casual wear has become increasingly permissible for use in a wide variety of business and social situations. Consumers of all ages and walks of life are quickly jumping on the movement and it is an exciting time in the lifestyle apparel category. Come join them!