Back to Top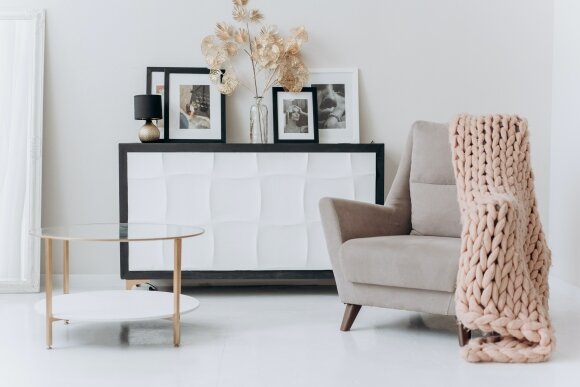 The Very Best Times of the Year to Buy Furniture
Buying furniture is a big purchase. Learn the top tips for saving money and the very best times of the year to buy furniture to get deep discounts on all types of furniture.
by PromoCodesForYou, on November 18th, 2021
Is your sofa looking a little lumpy? Is your kitchen on its last leg, literally? And when you go to pull out your sweaters from your drawer, does the knob come off in your hand?
If you answered "yes" to any of these questions, or if your home is looking a little bare and sad, it's time to go furniture shopping!
When Is the Best Time to Buy Furniture?

There is no question that furniture is a big purchase. But it is entirely possible to find that perfect sectional couch or bedroom set at the perfect price.
You may not realize it, but there are certain times of the year to buy that new sleeper sofa, dinette, or home office desk at great savings. If you're ready to start shopping for new furniture, you can get the best deals with just a little knowledge.
Timing Matters

We won't leave you hanging. When you're shopping for a bargain, here's what you need to know.
Home experts reveal that the best months to buy furniture are January and July. That may sound a bit odd, but here is the backstory as to why these are the best times to buy new furniture.
January: One of the Best Times of the Year to Buy Furniture on Sale

After the holidays are over and family and friends have retreated back to their own homes, most people are less inclined to buy new furniture. They no longer need a recliner for Uncle Joe to watch football while he is visiting.
But retailers still need to sell their inventory during these slower months. So, most furniture and big box stores offer post-holiday discounts after Santa returns to the North Pole. That's why the incentives to buy furniture are extremely attractive in January.
Of course, winter isn't the best season to purchase furniture in much of the country. The rain, ice, and snow are legitimate obstacles to going out and shopping. But fear not! There are also spectacular deals you can take advantage of during the warm weather in July.
Super Summer Sales and Discount

As summer approaches, people usually turn their attention to outdoor furniture. But, again, stores still have to move their indoor dining tables, armchairs, and side tables.
To capture the attention of shoppers who may not necessarily be looking to buy a new coffee table, retailers offer extraordinary discounts to lure in buyers who can't resist a fantastic furniture deal. You can use this summertime slump in furniture sales to your advantage.
So a great, and perhaps the best time to buy living room furniture, is actually in the heat of summer, especially in July when furniture is sold at heavily discounted prices.
But there is another reason why July is the best time to buy furniture.
Furniture manufacturers usually introduce their new products in late summer. Stores must make room for the latest designs. They need their floor and warehouse space cleared out and that can help you get a great deal. Shopping in July, immediately before the new styles reach retailers, is an ideal time to find amazing savings.
In addition, this is the time that closeout sales and floor samples are often marked down to extreme budget-friendly prices.
Even More Ways to Save

Sales in January and July are not the only way to get the best price on adding furniture to your home or apartment. Try these other tips to find great deals:
Used Furniture

Buying furniture second-hand is all about saving money. Whether you find that used china cabinet at a thrift store, consignment shop, or yard sale, do a little investigation before you pay.
That's because when it comes to buying used furniture, you want to make sure you get the most for your money by learning the marks of good quality. Inspect and try out any used piece of furniture before you buy. Sit on a chair to make sure it's comfortable and holds your weight. Give a table a little shake to check that no legs wobble. Open all the drawers on a dresser to make sure they easily slide in and out.
Most used furniture sales are final, so be sure you're happy with your purchase before you leave.
Buy Online and Save Money

Yes! You can purchase furniture from your current uncomfortable couch. It may even motivate you to act quickly and find a couch without sagging cushions.
Check out Amazon. They offer great deals on stylish living room furniture. Since this is the place where the family gathers to watch TV, play board games, and entertain, having cozy and functional living room furniture is essential. Amazon offers "furniture deals of the day" as well as items on clearance to help keep costs down.
Wayfair is a great discount online furniture retailer. If you haven't browsed their website, you are missing out. Wayfair is always having amazing sales on a huge variety of furniture pieces. Plus, you can enter your email address for an additional 10 percent off.
Shopping with Coupon and Promotional Codes

The savings don't stop with these online retailers. It is possible to save even more when you search for coupon codes before checking out of your cart.
PromoCodesForYou.com is one of the best saving websites. Use their coupon code to save on your purchase of that nightstand you just found at Wayfair.
Now that so many of us are working remotely, setting up an efficient home office is a priority. Furnish your space with items from OfficeFurniture.com and use this promotion code for a great deal.
If you prefer to shop at a big box store, you will still find the best time to buy furniture at Macy's is in January and July. Using the PromoCodesForYou coupon code will give you extra motivation to add that special item to your home décor.
And don't overlook Costco to deck out your kid's room. When you can't wait for the best time to buy furniture at Costco, you can still get discounts on your purchase. People Coupons will let you save on Costco furniture items with just one click.
Get Started and Save

Furnishing your home should be a fun experience. Saving money can make the process more enjoyable. Use these tips to make sure you get the most for your money and target specific months as the best time of the year to buy furniture.