Back to Top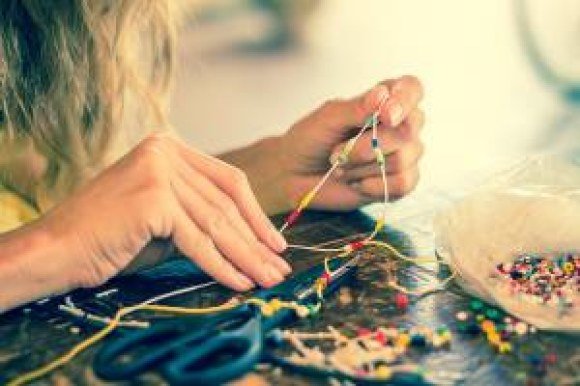 Top 4 Fabulous DIY Projects You Should Make This Spring
Click here for the top 4 DIY projects you should make this spring!
Spring is one of the most cheerful times of the year. It's a great opportunity to enjoy some DIY arts and crafts projects. Whether it is dying Easter eggs or enjoying a few craft projects with your kids, these ideas will brighten up your home as the sunny days return.
The numbers on the money spent just on this one springtime Easter holiday are astounding. Recent data revealed that Americans will dish out $14.6 billion dollars to celebrate this annual occasion. Instead of shelling out your hard earned dollars on springtime and Easter décor that ends up stuffed away in the attic after the season, why not try these cool DIY craft projects:
This whimsical DIY craft project is great for kids of all ages who treasure the freedom of riding a bike. Handlebar streamers can be crafted in any color from just about any flowing fabric. Let your children help out so they can be proud of riding down the block with their own creation of bright hues flying with them. Just double check their work to assure that there isn't any risk of the bike streamers tangling in the wheel spokes.
2. Colander Planters
An ordinary household item can do much more than just strain pasta! To make these functional and fun innovative planters, find inexpensive metal colanders. Then wrap one colander handle tightly with a half-yard of twine, pushing pieces together as you go to avoid gaps. Once covered, tie off and add a dab of glue to secure. Knot a yard of twine at each end of the handle. Repeat entire process with opposite handle.
The next step of this arts and crafts project is to line the colander with sheet moss and fill it with potting soil and seasonal plants. Tie four lengths of twine together and hang. For added color, buy different colors or spray paint a silver strainer with non-toxic, plant-friendly paint.
3. Temporary Tattoo Easter Eggs
Although decorated Easter eggs take center stage at Easter celebrations, the mess and time of dying Easter eggs is not for everyone. But there is a simple and elegant DIY method for decorating your oval-shaped decorations with a personal touch. The answer is temporary tattoos applied to hard-boiled eggs! It makes just about any design possible, it is clean, and absolutely the easiest way to impress your guests this holiday. Simply decide on your design theme…just about anything goes from florals to superheroes to cute baby animals. Then visit your local craft store or shop on-line for these popular temporary tattoos and follow the application directions. You will love the end result that has your kids squealing with delight.
If you are into a bit more "bling" for your Easter eggs, tap into your "arts and crafts" persona and add some glitter to your Easter eggs. Making Easter eggs glittery is not difficult and is a fun craft project for kids. Choose the colors that you want to dye your eggs and then select glitter that will compliment with those shades. A little glue will hold the glitter in place and give you sparkly and beautiful eggs that any child will adore.
And who says Easter Egg Hunts are only for the outside in the daytime? Glow-In-The-Dark Easter Eggs allow for a unique discovery adventure at night or inside your home with the lights out. Simply purchase plastic eggs from your local party shop along with bendable glow sticks or LED lights. Just prior to the hunt, snap glow sticks so they are glowing and insert into eggs. With this arts and crafts project you'll create an Easter memory that will be talked about for years to come. It may even grow to be a tradition in your family!
4. Bunny Table Runner with Pom-Pom Tail
Here comes Peter Cottontail, hopping down your table. This adorable three-dimensional imaginative arts and crafts accent to your celebration is perfect not just for Easter, but all spring long. It adds texture and whimsy for any occasion and will certainly pique the interest of your children and their friends. All the components are inexpensive and easily available. Find the detailed and simple directions for this craft project here.

Wake up your creativity and delight in creating these useful and imaginative DIY arts and crafts projects for Easter and all season long.
____________________