Back to Top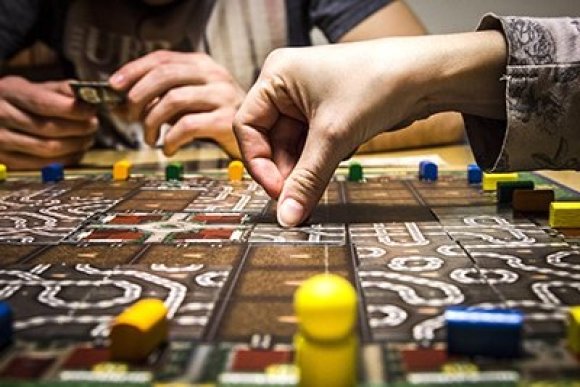 Top 5 Ways to Beat Cabin Fever
How to beat cabin fever? Get creative! These five surprisingly simple ideas will help brighten your mood and make the winter doldrums disappear.
by Joe Graceffa, on December 4th, 2017
Don't let getting stuck inside your home with the winter blues get you down! The rainy, snowy, dreary days of this season that make you hibernate indoors can easily affect anyone's mood.
Cold weather, lack of sun, and general boredom can make even the most optimistic person grumpy. After all, being cooped up can make you feel lethargic, unmotivated, and irritated.
But it doesn't have to be this way! You can beat the doldrums by getting creative and filling your winter with family and fun. Here are five simple ideas for how to beat cabin fever.
1. Get Active
Getting your body moving never fails to perk up your mood and, with a little thought and planning, it can be loads of fun. A dance party is a perfect answer to get rid of the cabin fever blues. Simply put on some funky tunes and shake off the doldrums. Put together a "Banishing Cabin Fever" playlist in advance of the next rain or snowstorm and include all your favorite songs to dance to. Keep it handy for a gloomy, indoor day.
For all those with grand dreams of working out, now is the ideal time to remove the clothes that are hanging on your treadmill and use the machine the way it was intended to be used.
Or if you're brave enough, bundle up and get out the door for a (very) brief afternoon walk. There's nothing quite like being outside in the fresh winter air. Channel your inner kid and go sledding, splash in a puddle, or make a snowman and have some old-fashioned fun. Getting out of the house, even for just ten minutes, will give you a new perspective on the day and reinvigorate your creativity, leaving you energized and focused for the remainder of the day.
Just make sure you are dressed for the rain, cold or snow. Kohl's offers tremendous values on outerwear for all ages that are even more attractive when you use the discount codes from PromoCodesForYou.com.
(Get the best deals on all of your new outerwear with Kohls coupons!)
2. Avoid Boredom with Boards
Dust off all those board games that your kids neglect and create a tournament with a special prize for the winner. If you or your family members normally have their eyes glued to a smartphone or tablet, an interactive old-fashioned game will be a novel change of pace.
Consider Twister for loads of physical activity and giggles or Clue for in-depth thinking without knowing you are activated your brain muscle.
3. Laugh the Day Away
Don't let your sense of humor become a casualty of a winter. The serotonin released when you giggle and chuckle is what puts you and your kids in a happier mood. Choose a funny movie or television comedy show that the entire family can enjoy (oldies like I Love Lucy are perfect), and make an event out of it. Pop some popcorn, brew some hot chocolate and enjoy a lighthearted afternoon.
Even better is the kind of humor that sharpens your brain and encourages you to interact. Remember Mad Libs? You know, the word game where one player prompts others for words to substitute for blanks in a story. Then the finished "story" is read aloud, often producing comical results. It's perfect for any age and many Mad Libs can be downloaded for free from the internet.
4. Change the Environment
Why not go camping in your living room? If you are craving the great outdoors, set up a tent or build a blanket fort. Make s'mores over the fireplace or stove and pretend you are outside enjoying a warm fire. Don't be shy, just raise your voice with your favorite campfire songs and make camping memories without even leaving the warmth of your own home. Or, if you want to totally change up your location, get a hotel with a hotels.com coupon.
5. Consume Wisely
When you're stuck in one place, try to avoid foods that will only make you feel more sluggish or more agitated. High-carb and high-fat foods are extra tempting when there is nothing else to do. Unfortunately, although they may taste yummy for the moment, they create lethargy. Sitting around and drinking lots of coffee is also a bad idea because it creates feelings of agitation.
This is the perfect time to try a new recipe that is packed with protein. Pour over your cookbooks together with your entire family and agree on a new recipe to try. And keep healthy snacks top of mind. Peanut butter is an excellent source of protein and most kids think it's delicious!
Make Walmart your one-stop shop for winter provisions. Not only do they have fabulous cookbooks to fit your specific taste and cooking style, Walmart sells high-quality food as well.
So stock your pantry full of everything you need from pasta to canned goods to fresh produce at your neighborhood store. You can order in advance for easy pick-up, or Walmart will even ship and deliver everything right to your door!
(Stock up while scoring the best deals with Walmart promo codes!)
No More Blues
No matter if you live in one of the major cities that normally have freezing temperatures, of less than 32°F or less like Denver, Colorado or Rochester, New York, or if you live in a warmer weather climate that has sudden showers and rainstorms, this winter may find you stuck inside for what seems like an eternity.
Cold winter days can be tough but there is a multitude of ways to beat cabin fever. And remember, this rainy, windy, snowy time of year doesn't last forever!