Back to Top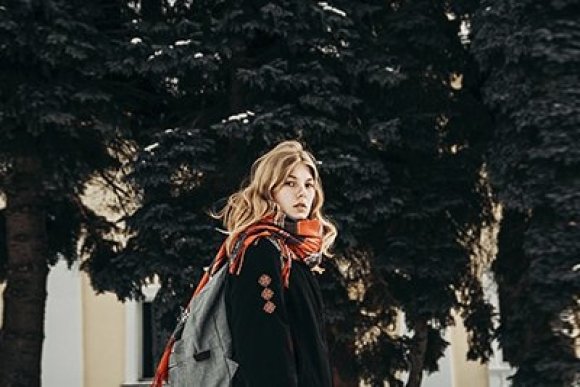 Top Winter Fashion Trends 2018
Winter is the perfect time to update your wardrobe and have fun with materials made for colder climes. Plus, we highlight the latest winter fashion trends.
by Joe Graceffa, on January 2nd, 2018
The changing of the seasons into colder weather offers a new opportunity to update your winter wardrobe. While we adore the warmth of the summer months, it's time to think about winter 2018 fashion. But choosing between fashion and warmth can be a daily winter wardrobe dilemma.
To help you get ready to dress to impress your friends and family, we've rounded up some of the new and most important winter fashion trends.

• Super Shine
Vinyl along with shiny patent leather has regained its 1980's prominence. Apparel and accessories, from handbags to pants to skirts and coats in these glossy materials, have taken center stage this winter. Choosing these pieces will you help brave the chill in style!
These high polished fabrics appear in various shapes and forms from trenches to trousers and dresses.
But don't think you have to go head to toe with this style…the look you choose does not have to shine completely. A wool coat accented with patent or vinyl pockets meets this trend in a subtle manner.
This shiny stuff has the added benefit of giving a hint of sexiness to any outfit. While black is definitely the dominant hue, you can get your flashy fix in shades of red, blue, green and even pink.
This year, load your winter wardrobe with vinyl or anything that suggests high shine. If you're a bit nervous to dip your toe into this head-turning trend, start with shoes and work your way up.

• Romance
Pretty layers of ruffles and tulle are a trend that continues to gain popularity. Modern romance takes classic elements like florals, lace, and peplums and applies them to apparel of all types. The result is femininity that replaces dainty with some drama.
Make Boston Proper you're one-stop shopping destination for this elegant and graceful style. And stop by PromoCodesforYou.com for extra savings.
(Score all the best deals with Boston Proper coupons!)

• Velvet
Velvet is not just for fancy smancy parties. This season you'll find it worn in a variety of ways. It can be shown off on its own or popped over other apparel.
The fabric is perfect for chillier temperatures. Plus, you can wear it any way you like, as stores are offering this rich fabrication in everything from dresses to boots.
This season, bold colored velvet is making its presence known. Be adventurous and ditch the basic black and opt-in for a bold blue or soft pink ensemble.
You can effortlessly incorporate velvet into your wardrobe by dressing up jeans with bold-hued boots or trading in your usual T-shirt for a plush velvet top. Buy skirts, trousers and track pants, and pair them back with basic tops for an effortless vibe that doesn't scream "velvet," but puts you right on trend.
Velvet bottoms may not be the easiest item to pull off, but when styled the right way, their impact is unforgettable.
If you want to be in style but have second thoughts about velvet, a feminine choker is the perfect way to touch on the trend without venturing too far. There are so many options to try!
Wherever you want to begin your relationship with velvet, start online at Kohl's and check PromoCodesForYou.com for extra discounts before you checkout!
(Get the best deal on whatever you pick out with a Kohl's promo code!)
• Athleisure
The fashion world is feeling more and more intrigued by sportswear. It is a style that is the new normal, increasingly shifting from a trend to a lifestyle. It is driven by consumers' desire to be both trendy and comfortable at the same time...and at all times.
Think spiced up ski jackets, tracksuits, and cozy fleeces. Instead of wearing trousers and heels to run errands, it's now trendy to wear leggings and sneakers everywhere…even to parties! Clothes which were once only appropriate for the gym are now what is worn to meet friends for coffee or even impress in the boardroom.
Start with leggings in a neutral color and team them up with a long sweater. Throw on a long buttonless jacket or coat for instant style.
Famous figures such as Kate Hudson, Beyoncé, Selena Gomez, and Carrie Underwood have launched their own leisurewear brands in recent years making athleisure a fashion category that is set to thrive for years to come. For your athleisure needs check out Norm Thompson, which offers great deals for both men and women, and use a Norm Thompson coupon from our collection.

• Red, Red and More Red
The color palette for Winter 2018 leans toward warmth, specifically the fierceness of red.
And the bolder the better. This color of the season projects confidence and self-assuredness.
No matter what the hue, if it's on the red spectrum, you have to rock it. But avoid overly fussy pieces and stick to simple silhouettes since the statement is in the color. Go all-out with a red maxi dress and boots. Or if this is too big of a move, start with lipstick and nail color.
Boscov's online store has a multitude of options of red apparel for every figure and every occasion. You'll enjoy extra discounts on your Boscov purchase by stopping by PromoCodesForYou.com.

(Stock up on wardrobe essentials with a Boscov's coupon!)

Quick Takes on Winter Fashion Trends
There are a few additional trends that you'll want to be aware of for winter 2018. These are simple tips to easily update your closet.
• Shoulder Pads
They're back…. For now, it seems square shoulders are here to stay. Seen on oversized and exaggerated suit jackets and coats, shoulder pads can create elegance and movement.
• Pattern: Plaid
Plaids have emerged as a pervasive trend for winter 2018. Tartan patterns and houndstooth prints are prominent from coast to coast in winter womenswear collections this year.
From dresses to thigh-high boots, a classic plaid can instantly update a wardrobe. Scottish plaid designs are ideal for outerwear, as well as for a country chic look in a jacket, pant, or shirt.
For the crafty types, plenty of plaid patterns are available at discount with Joann fabrics coupons.
• Accessory: Belts
Belts are everywhere, whether wide or slim, they're used to cinch coats, shirts, and knitwear. This accessory helps define the waist and a deliver a fitted effect. Wide belts are the best to accomplish this since they greatly reduce the appearance of the waist.

Use these ideas to help guide you to the looks and styles that can be woven into your wardrobe in a simple manner. There is no better way to spend the rainy or snowy day than shopping online and buying the best winter fashion trends for 2018 (although, winter workouts are pretty great, too).