Back to Top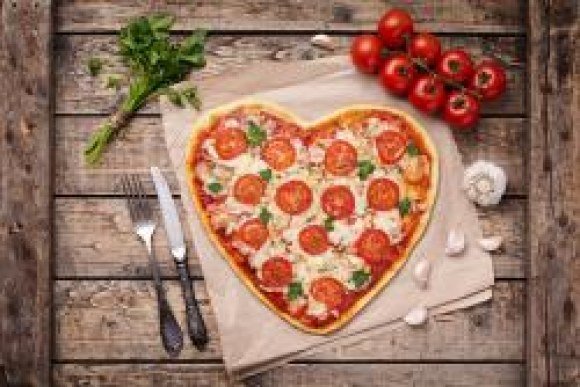 Valentine's Day Dinner Recipes
Click for easy preparation instructions!
It is estimated that over a third of people will eat out on Valentine's Day. That is a lot of crowded and noisy restaurants filled with frustrated couples whose reservations were not honored on time. This experience can be more annoying than loving.
So consider this…the most romantic kind of dinner for Valentine's Day is one you cook at home. No need to panic or gasp for air! There are very simply Valentine's Day dinner recipes and wonderful romantic dinner ideas to make this day memorable without any stress.
All the scrumptious Valentine's Day Dinner recipes we mention below have links to click on for easy preparation instructions.
Starting it Off
If you are ambitious and want to start with an appetizer, skip the dip and instead focus on a delectable dish that will not keep you in the kitchen for more than a minute or two. After all, you want to celebrate with your partner, not your oven.
• Naturally, everything should be appealing to the eye as well as to the palate. Start with a super simple Bruschetta that includes a tasty and fragrant topping of tomato and basil. (If you are a novice, bruschetta is toasted Italian bread drenched in olive oil and topped with fresh ingredients).
• Feel a bit more adventurous? Consider Mini Crab Cakes with Orange Aioli. This Valentine's Day dinner recipe starter is easier than you would imagine and sets up the evening as a special occasion. And the secret is you can usually make the Aioli sauce the day before.
• A taster plate of fresh oysters served the old-fashioned way with lemon juice and a hit of Tabasco can make a romantic night get off to a good start and takes less than 15 minutes to prepare.
The Main Dish
There are so many options so it important to focus on what both of you enjoy eating. After all, if you are a vegetarian and serve steak, it will be an awkward meal.
• It's hard to mess up pasta, so that's a good start. And who doesn't love mac n cheese. Make it extra special by creating a lobster mac and cheese with a hint of spice. This thoroughly decadent dinner combines comfort food with luxury for a perfect romantic dinner idea on this day of hearts.
• If you and your sweetheart prefer beef, there are dozens of great options. A stout-soaked porterhouse with rich homemade beer butter delivers the ultimate Valentine's Day dinner recipe. The juicy, tender porterhouse is the perfect size to split with your loved one and makes a unique romantic dinner idea.
• Something lighter may be best on the menu to entice a romantic evening. Citrus Salmon Fillets with Raspberry Salsa is a mouthwatering option and something special to serve. It offers a delicious and healthy way to set the table with romance.
Sweet Endings
After all your work, it is certainly fine to purchase a Valentine's Day dessert from the local bakery, but don't sell yourself short.
• Red Velvet Cupcakes hit all the holiday must-haves of yumminess. And if time runs out, it is acceptable to buy these at the bakery and add some extra décor to enhance the love.
• A strawberry and vanilla trifle is one of the easiest recipes ever. And it looks amazing when served in a clear glasses so all the lovely layers can be seen. You can even make it in advance of your romantic dinner.
• In less than an hour you can create a brownie extravaganza in the shape of a heart. (Yes, it is permissible to use a boxed mix). Plan ahead and bake them the night before. For added romance, decorate your creation with an icing love note. And be sure to serve them in a way that tops off the evening with style by adding some strawberries dipped in chocolate that you can feed to each other.
Creating a romantic meal is one of the most memorable things you can do on Valentine's Day. And of course, be sure to have a bottle of champagne chilling nearby to toast your love.
_____________