Back to Top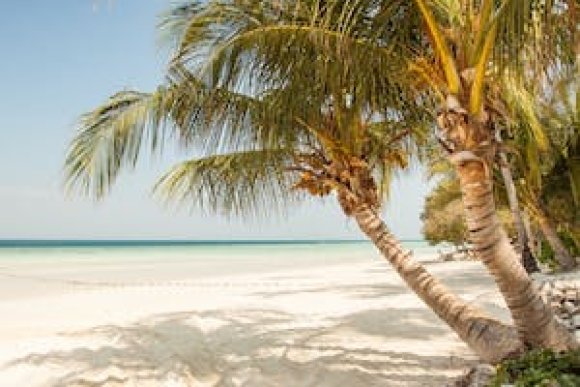 Warm Winter Vacations: Top 5 Destinations
by PromoCodesForYou, on January 30th, 2019
Some people love the seasonal change to colder months. But rain, snow, frost, and freezing temperatures aren't everybody's idea of a good time. In fact, 64 percent of us plan to travel away from home during the cold weather. So, if your ideal winter involves a warm-weather vacation, here are some ideas to banish the chilly seasonal blues.

Sunny Getaways
Vacation rentals are practical, comfortable options, whether you favor a condo on a windswept beach or a poolside house in the desert. You get the whole property to yourself, plus all the facilities to make you as comfortable as possible. There are thousands of choices around the country, so you're sure to find the perfect rental accommodation in these warm places to visit in January.
(Book your getaway at the best price with a Expedia coupon code!)
1. Sedona, AZ
This vacationer's paradise in the middle of the Arizona desert delivers one of the most scenic warm places to visit in January in the USA. Surrounded by red-rock bluffs, steep canyon walls and pine forests, the vistas will amaze. Stunning hiking trails will stay in your memory long after you return home.
Sedona is equal parts rugged, equal parts resort. Recognized as a place of healing and spiritual renewal, it is the ideal location to receive soothing treatments at the dozens of spa facilities. Prowl the 40-plus art galleries lining the streets or indulge at the nearby vineyards and tasting rooms since Sedona has emerged as a destination for wine enthusiasts.
Many who visit here leave knowing Sedona is a true oasis.
2. Charleston, SC
With its pastel-hued French Quarter buildings and cobblestone streets, gardens, harbor, and beaches, Charleston is another great choice for a winter sun getaway. Hop into a horse-drawn carriage for a romantic city tour, find out about local Civil War history, experience the excellent shopping, or sign-up for a ghost tour at night.
You can also take to the water on a tour by paddleboard, elegant schooner, or exciting speedboat where you'll feel the wind blowing through your hair.
Founded in 1670, many come to Charleston with one thing on their mind: food. You can dine in high-end or simple outdoor cafés. Charleston is bursting with Southern charm and hospitality.
(Be sure to grab a Travelocity coupon code!)
3. Palm Beach, FL
Say goodbye to winter blues at this stunning location where you can play golf with Atlantic views, enjoy top-rated sightseeing and food tours, and shop till you drop. Known for its glitzy estates and its beaches, galleries, and restaurants, you will certainly feel transported to one of the best warm places to visit.
This world-renowned destination is alive with endless activities. For some unique daytime adventures, get up close to gators on a Florida Everglades airboat or get face-to-face with moray eels while diving in the crystal blue ocean. After dark, immerse yourself in the colorful culture and nightlife.
Palm Beach is an ideal location for every member of the family, even those of the four-legged variety. This pet-friendly destination is the "purrfect" place to pamper any feline or canine, big or small.
4. San Padre Island, TX
This long, slender Texan island is one of the best winter destinations, bordered with white sand beaches, sparkling ocean, and blessed with a tropical climate. Get out on a kite board, book a dolphin-watching excursion, take a skydive, or simply relax by the pool or sea.
Known for its beaches and calm waters, South Padre Island Birding and Nature Center is home to a five-story watchtower with views of migrating birds. In advance of your trip, you can even peek in via the live webcam view in advance of your trip.
The South Padre Island Dolphin Research & Sealife Nature Center offers boat tours and touch tanks to get hands-on fun.
Whether you want a relaxing vacation where time stops and Island time reigns, or an adventure-filled experience of a lifetime, South Padre Island has everything you need to plan your ultimate warm-weather winter vacation.
5. Laguna Beach, CA
This compact city on the sunny Californian coast makes an ideal winter beach vacation.
Imagine long coastal walks, swaying palms, and deep blue Pacific waters, ripe for whale watching. During your warm winter visit, you'll want to explore the sea caves and oceanside bluffs.
The arts still play a big role here, with the Laguna Art Museum, a wide variety of galleries along the waterfront, and the Laguna Playhouse.
If your passion is exploring the outdoors, there are mountain biking trails for all levels of expertise, hundreds of miles of hiking, marine sanctuaries, and unlimited new places to discover.
The seven miles of pristine California coastline are the big draw. The waves are perfect for boogie boarding and surfing, while Main Beach features tide pools and a boardwalk.
Laguna Beach offers endless beachfront lodging options, making it an ideal spot for a beach winter vacation.
(Book your lodging at the best prices with a Hotels.com coupon code!)
Get Going!
When you're desperate to get away for a warm winter vacation, consider these great locales for fun in the sun, along with blue waters and clear skies. You'll be amazed how the break from rain and snow can reinvigorate your outlook!