Back to Top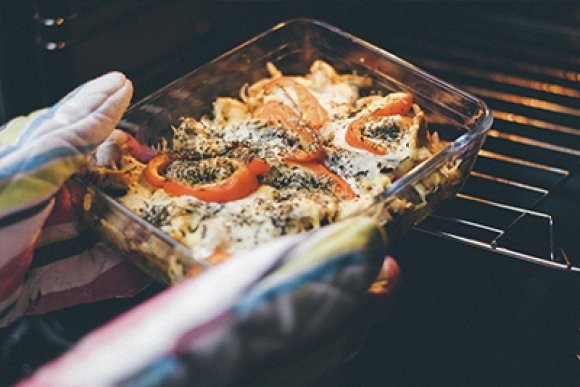 Best Cold Weather Recipes
Thaw out this winter with cold weather recipes - satisfying stews, comforting casseroles, and more. Hearty, healthy, & half the effort you might think.
by Joe Graceffa, on December 22nd, 2017
Comfort foods are one of the wonderful things that accompany wintertime. So when the chill arrives and only a warm meal can thaw you out, consider these best cold weather recipes. They are the perfect remedy to any winter blues.
• Satisfying Stews
Nothing says comfort food like a hearty bowl full of stew. As you approach the front door with frosty rosy cheeks and with a lack of feeling in your toes, the joy, and warmth of a homemade stew wafting around your home is second to none. Believe it or not, there are no right or wrong ways to make stew.
The heartiest recipes include bites of meat cooked low and slow with hearty veggies, bubbling away until flavors meld and the meat loosens and gains buttery texture. One of the best tips for preparing this family favorite is to cut the meat and veggies into roughly equal-sized pieces so they'll cook evenly.
If you have the time, nothing beats filling the house with the aroma of a stew simmering in a crock pot for hours. All the luscious ingredients cook together to create an unmatched bowl of yumminess that is full of flavor.
But time need not hinder your cooking of comfort food for your family. You can find a classic beef stew recipe here that can be made in just 30 minutes.
And if you have a vegetarian in the family, don't leave them out. Vegetable stews can be rich and bold in flavor, too.
Preparation is always easiest with the proper equipment. Investing in a quality stock pot means you can do everything from simmering stews to making big batches of soup. Find the ideal match for your cooking needs at Sur La Table.
(Stock up on all your new equipment with Sur La Table coupons!)
• Lasagna Lightened Up
Get your daily dose of veggies by sneaking zucchini, carrots, and corn into this cheesy lasagna dish. Using low-fat milk, cottage cheese, and mozzarella cheese cuts down on fat, but fresh basil and hint of nutmeg give your taste buds plenty to be excited about.
Layers of cheese, noodles, and crisp veggies combine to make much-loved garden lasagna. And thanks to the no-boil lasagna noodles, this is a quick, easy winter recipe that can be whipped up without a lot of fuss.
Most cooks suggest making any cheesy dish in a non-stick pan for easy serving. No wonder in 2016, U.S. retail sales of non-stick cookware amounted to approximately 1.55 billion dollars!
• Comforting Casseroles
Not only are casseroles satisfying and filling, most are pretty simple to make. As an added bonus, they also provide leftovers for the next day.
Many recipes can be prepared in advance and since casseroles are served up from the dish where it is baked, you save time in the kitchen.
For the novice cook, casseroles are truly forgiving, giving freedom to add or reduce ingredients depending on your family's preferences.
Try a basic meat and potato casserole to please every member of the family, including the cook since it takes only ten minutes to prepare.
Or make a dinner of turkey and vegetables really appealing to kids by turning it into a pie that features everyone's favorite refrigerated crescent rolls. They won't even notice the nutritious vegetables hiding between the flaky layers of the bread.
Hamburgers are a treat no matter what the season, so focus on making your own Hamburger Noodle Baked Casserole. No bun required for this sumptuous dish that will be consumed as soon as you place it on the table.
Regardless of the casserole contents, presentation counts. This time of year, baking your cold weather recipe in a winter-themed dish makes any meal a little more special. And when it's time to participate in a potluck, transport your tasty meal in a convenient and specially designed insulated carrier to keep your delicious creations safely stored and at the proper temperature.
All these and more can be found online at Bon-Ton stores with extra savings from PromoCodesForYou.com.
(Get everything you need with a Bonton promo code!)
• Chili to Eliminate the Chill
Chili is a quintessential cold-weather food. It's warm and comforting. It begs to be loaded with toppings (like cheese, tortilla chips, and sour cream) and it's easy to eat on the couch.
There is a multitude of chili recipes, but the trick is to create great flavor and just the right amount of heat to please your entire family. You can pretty much find any recipe, take out all the things you don't like and keep in all the things you love. This becomes your very own version of the perfect bowl of chili!
It's a well-known fact that chili is often best the day after it's been cooked. It will also keep for up to a week and freezes well so you can have some at hand throughout the winter season.
Coziness Through Food
These days it gets dark earlier than anyone really likes. So a warm and inviting dinner can chase away any winter blues that might creep in.
These best cold weather recipes provide a sense of comfort to bring everyone together at the end of the day or provide a welcoming meal on a weekend. The wonderful flavors of comfort foods are simply the perfect way to warm up on a cold night.
And don't forget, when springtime rolls around it is a great chance to freshen up your spice rack and learn some new recipes. Check out our spring recipes guide to learn more. And if you're interested in new takes on classic ingredients, check out our gluten free & vegan pumpkin recipes.