Back to Top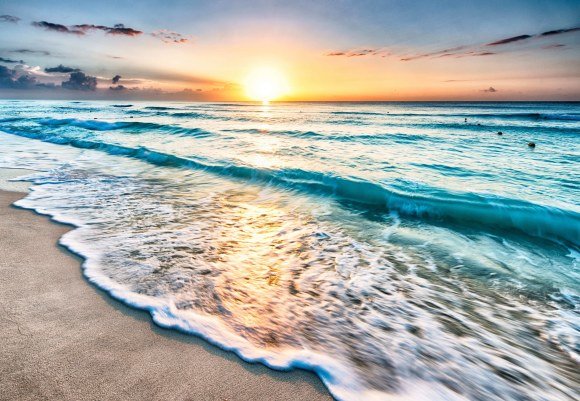 The World's Most Interesting Travel Spots
Have unused vacation hours but don't know want to spend them on the same old tourist traps? Read about some of the best-hidden travel treasures on Earth.
by Joe Graceffa, on January 30th, 2017
There are some tourist attractions that can't be missed: the Great Barrier Reef in Australia, the Eiffel Tower in Paris, the Great Wall of China…But there are also plenty travel spots to see that are under the radar and should certainly be part of your travel bucket list. These uncommon locations are some of the most interesting and unusual destinations. They will amaze you, cause you to do a double take, and expand your ideas of a perfect travel experience.
Here are seven sensational, unique, and unexpected sites to see and explore. We're sure they will become some of your favorites:
1. Cancun Underwater Museum, Cancun
Snorkeling, scuba diving, and swimming with dolphins may all have become commonplace. But in the ocean, just off the coast of Cancun, sits the Cancun Underwater Museum. You'll be rubbing your eyes in amazement as you view this spectacular museum that features more than 400 life-size underwater sculptures. These figures and scenes are made from materials that promote the growth of coral. Swimmers can take in all of these wondrous underwater sites that include a sculpture of a man on his couch watching television, via snorkeling or a glass bottom boat. This is truly a unique experience and best of all, it is run by a non-profit organization devoted to the art of conservation.
2. Leshan Giant Buddha, China
Located in Sichuan, China is the 233 foot tall Leshan Giant Buddha that was carved directly into the mountainside in the 8th Century. It is said to be the largest known stone Buddha image in the world. This seated Buddha with his hands on his knees gazes majestically onto the river below. It is mind-blowing to believe this was created centuries ago.
While in Sichuan, you'll want to stay at the 32 room Panda Inn hotel that is decorated with panda art, panda furniture, and panda-shaped stuffed animals. Even the staff members dress in panda suits and they will direct you 100 miles north to visit the "real" bears located at the Giant Panda Sanctuaries.
When traveling internationally, let Hotels.com work their magic in finding the best accommodations to meet your budget. Established in 1991, they now have thousands of properties in over 200 countries and are one of the most reliable and dependable travel sites for all your needs.
[Click here to view Hotels.com coupons]
3. Salina Turda, Romania
Want to ride a carousel in an underground mine? Yes, it's possible. The Salina Turda salt mine in Transylvania, Romania has a rich and varied history that dates back to the 17th century. It once provided rich salt mineral for the world, it has acted as a bomb shelter and has even been used to store cheese.
But in 1992 it was transformed into a popular tourist attraction. There is a giant Ferris wheel, a mini-golf course, tennis courts, playground, bowling alley, and even an underground lake with paddle boats. An amphitheater with heated seats for concerts and lectures is also situated deep inside this cavern among the stunning rugged caverns.
4. Ithaa Undersea restaurant, Maldives
Ever wanted to dine with the fish? On Conrad Maldives Rangali Island, the Hilton Resort offers meals at the Ithaa Undersea Restaurant. Ithaa, which means mother-of-pearl in the native language, is extremely unusual as it is located 16 feet below sea level. The sides and roof are made of clear glass, allowing guests an unforgettable experience as they dine, surrounded by sea life. The Conrad Maldives Rangali Island is the most centrally located Travelocity-listed lodging choice in Rangali Island and is just one way Travelocity inspires memorable vacation experiences.
[Pick up a Travelocity coupon before you book your trip!]
5. Antelope Canyon, Arizona
If you're searching for something closer to home, this sacred Navajo site is said to be the most photographed canyon in the American Southwest. It is a slot canyon which means it was formed by water rushing through narrow pathways of rock.
As a result of being created by flash flooding and erosion, the rock canyon has a stunningly smooth, wave-like texture that can only be truly appreciated in person. The breathtaking pictures taken here adorn photography books, online blogs, and the walls of homes throughout the world. It has been accessible by permit only since 1997, and can only be visited exclusively through guided tours, in part because rains during monsoon season can quickly flood the canyon.
6. Huacachina, Peru
This tiny resort city is actually more of a village. It was specifically built around a small, natural lake in the Southwestern Ica Region, seemingly in the middle of nowhere.
Located five hours south of Lima, it is popular for the jaw-dropping sports of dune buggy and sandboarding among the thrilling sand dunes. Sandboarding is similar to snowboarding, but you fly down the fine-grained sand of the desert instead of snow, either standing up or laying on your stomach. The gigantic sand dunes are beautiful, surreal, and mesmerizing. You can choose from an unsurprisingly large amount of hotels and dine at a variety of restaurants in Huacachina. This is an "out of this world" experience, almost like visiting the surface of another planet.
7. Icehotel, Jukkasjarvi, Sweden
If you prefer the snow instead of the desert, located approximately 124 miles above the Arctic Circle, sits the Icehotel. The hotel is made almost entirely from ice and each year, it is reincarnated into a brand new design. The 35,000 cubic meters of snow and ice mixture used to build the Icehotel equals the volume of 700 million snowballs.
At this location at seemingly the top of the world, the view of the Northern Lights is simply spectacular. During their stay, guests sleep on beds made from ice but never sacrifice the modern amenities of free Wi-Fi, heated bathrooms, and saunas. There is a restaurant, church, main hall, and bar made from ice. The cocktail glasses in the lounge are, of course, also carved from ice.
The fun doesn't have to stop with these seven sensational locations. Explore the mysterious "crooked forest" of Western Poland, with 400 pine trees all growing with a 90-degree bend at the base. The reason behind the curved trees remains unknown to this day.
Or kayak through the Apostle Islands, off the Wisconsin shore of Lake Superior. The group of 22 islands is riddled with caves, and during the winter visitors can see frozen waterfalls and icicle-filled chambers. And cheapoair.com can keep you on a budget when you book with them online, through their mobile app, by telephone or live chat.
Don't be one of the American workers who doesn't take all their vacation days, leaving 577 million unused days very year. Let the travel experts who have perfected booking online hotels, cars, airfare, and more assure you get the vacation of your dreams. And don't forget to read this blog about essential travel accessories for the holidays if you're traveling during those special times of year.
[Click here for CheapOair promo codes]