Back to Top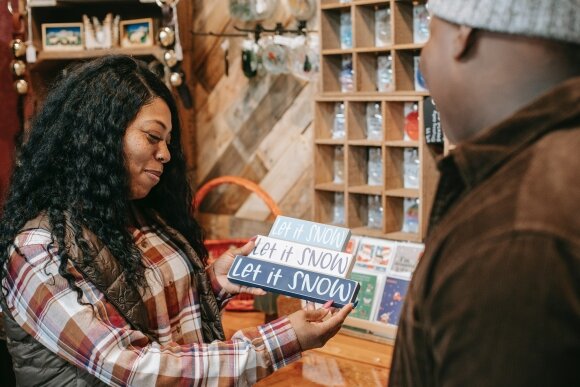 How to Save Money During the Holidays
by PromoCodesForYou, on September 21st, 2021
It may be the most wonderful time of the year, but the holiday season can also be the most expensive time of the year.
According to the National Retail Federation (NRF), the average American is expected to spend close to $1,000 just on gifts. And there will be even more costs for holiday decorating, travel, and activities.
But there is a way to lessen your stress, save money, and keep from going into debt. From gifting to decorating, these ideas will help you manage your money during the priciest time of year .
The Best Ways to Save Money During the Holidays
1. Set Up a Holiday Budget

Holiday budgeting is the most effective way to set limits on your purchases and still enjoy the season. Take time to understand your financial limits, then decide what you can afford to give, instead of buying and finding out that you have to dig into your savings account.
The most effective way is to make a list and stick to it. It might be tempting to add people and items as you go out to shop, but do your best to stay focused and track every expense.
2. Take Advantage of Special Sale Days

Black Friday is traditionally the day most people associate with the beginning of the holiday shopping season. And Cyber Monday is a continuation of some of the most outstanding holiday deals. But there are many other super-sale days.

• Small Business Saturday occurs the day after Black Friday. It offers customers a simple way to support local small businesses and get deep discounts on items like clothes, home goods, and decorations.
• Green Monday falls on the second Monday in December. For participating merchants, it represents the last day that shoppers can safely order gifts online to get them to their recipients before Christmas. And most of the deals offer extra savings. Kohl's, Macy's, and Target are just some of the stores that participated in this lesser-known event last year.
3. Find Promotion Codes and Save Money for the Holidays

Sales aren't the only way to get great deals on the gifts you want for your friends or family. Before you shop online, perform a quick search for discount codes for your favorite online stores.
A quick peek at PromoCodesForYou.com can save you a nice chunk of change. The dedicated team at PromoCodesForYou scours the internet to bring you the latest verified coupon codes for your favorite stores.
4. Shop Online

E-commerce retail holiday season sales reached a stunning $755 billion last year. Clearly, consumers have found online is a great way to save money during the holidays.

• Online shopping allows you to avoid the frenzied holiday atmosphere at retail stores

• It's super convenient; you can shop at any hour of the day or night, even in your pajamas from your couch

• You don't have to fight traffic, look for a parking space, or push your way through crowds of other bargain hunters
But perhaps the biggest advantage of online shopping is how easy it makes it to compare prices. Instead of going from store to store, just download a handy browser extension like ShopSavvy or MyCartSavings to search for items. You'll easily be able to what the product is selling for both in-store and online. You can get alerts without lifting a finger as these apps automatically check prices all over the world wide web.
5. Draw Names and Save
This simple idea will save you more than you realize, especially when you have a big family or large group of friends.
Most people put the names into a bowl and each person draws one out and set a limit on how much money to spend. You'll be relieved not to have to buy a million different gifts or bust your budget.
This process has indeed been a little more challenging during the pandemic. After all, who has time for all the texts and emails involved in a virtual name drawing process? But now an app called Secret Santa 22: Gift Exchange makes it quick and easy. It allows you to create your own lists and price restrictions all at once. One-click and you're done!
6. Use Apps That Save Money for the Holidays
Speaking of helpful apps, there are plenty that can help find low-cost items when you feel obligated to purchase a present, but don't want to spend much of your hard-earned money.
For example, we may not be working back in our offices, but that doesn't mean we don't have to remember a gift for our boss or the administrative assistant who has been organizing all those Zoom meetings. Using money-saving apps can help you manage your budget for these tokens of appreciation.
Three of the best apps to save money for holidays are:

• Honey searches the web for available coupon codes and will automatically try every available one online for you while you sit back and load up your cart.
• Ibotta provides cashback on your purchases. While it might not seem like much, it can add up over time.
• SnipSnap allows you to search the web for coupons and automatically download them to your phone. Just go up to the cash register, show the cashier your phone, and they'll scan it.
7. Get Social
Follow your favorite brands on social media so you'll be the first to know of a sale. Many brands announce special flash sales for their followers, and some even offer free shipping codes.
On Facebook, "like" the brand's page and opt to "see first." On Instagram, turn on post notifications. You can always turn them off after you've finished all your holiday shopping.
8. Price Matching
Did you know Target, Best Buy, and other retailers offer price matching guarantees? Show proof of a lower price (such as a competitor's ad) within a limited time and the store will match it. But be aware, many stores exclude Black Friday deals from price matching.
9. Do It Yourself
It is easy to downsize holiday spending, without sacrificing your holiday joy. Spread the cheer with homemade gifts and experiences. It really is the thought that counts. Your personal gifts can create long-lasting members and generate every bit as much gratitude, or even more so.
For example, most photo sites have promotions this time of year and there are money-saving coupon codes on PromoCodesForYou.com to make the deal even better! Take advantage of these savings to print out some of those photos you've accumulated on your phone. Then pick out a pretty, inexpensive frame and you instantly have a low-cost, meaningful gift.
Or easily create your own redeemable gift certificates offering to do something special for a loved one. All you need is a printer and card stock paper.

• Couples with young children would appreciate a night of babysitting

• Your spouse would welcome a morning to sleep in

• Parents would appreciate having you wash the car

• Your kids would love to go with you on a bike ride

The options are endless and you might just find out your friends appreciate your time more than another candle or scarf.
A Few More Tips on Saving Money on the Holidays

Getting great deals on gifts will help with the bulk of your holiday expenses. But there are even more ways to keep from overspending.
How to Save Money on Holiday Decorations
Although, watching home decorating shows that feature holiday houses with endless décor may make you want to embellish each nook and cranny of your residence, resist the urge to deck every hall.
Focus on the places that will be seen the most, like the table, mantel, and front door. Recycle ribbons and trimmings from years past. And when it's time to add new items, hit the Dollar Store for garland, tinsel, lights, and even inexpensive serving platters.
Making your own decorations is another traditional idea that can be done as a family. These items will become keepsakes that can be passed down to other generations and create priceless memories.
Rethink Holiday Wrapping Paper
Gift bags and wrapping paper may not seem like major expenses, but they add up. Americans spend more than $2.6 billion on seasonal wrapping each year.
Fortunately, it's easy to eliminate this expense. By using frugal gift-wrapping alternatives, you can save money, reduce waste, and add creative flair to your presents. Old newspaper, brown bags, even old maps, sheet music, or fabric are great options that you likely have around your house. Not only will it save you money, but it may help you declutter your home.
Save Money During the Holidays
It's easy to get caught up in the holiday spirit and overspend. But using these easy steps to save money around the holidays can help.
Decide what is best for your financial situation and stick to it. Don't feel guilty for setting limits. Focus on what's most important and that's spending time with your family. You don't need to go bankrupt trying to show your love. You'll be rewarded with less stress and a feeling of satisfaction when you save money during the holidays.